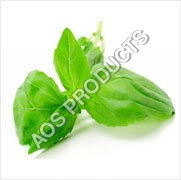 Natural Linalool Ex. Basil
Product Code : AOS13
Product Description
Since our initiation in 2009, we have been successfully engrossed in providing Linalool Natural (Ex-Basil Oil), Natural Linalool Ex. Basil. Moreover, the provided Linalool Natural (Ex-Basil Oil), Natural Linalool Ex. Basil can be easily purchased at market leading prices from us


Extraction Method & Properties of Linalool Natural (Ex-Basil Oil) :-
The provided oil is processed at our advanced processing set-up under the strict observation of our ingenious professionals using premium grade plant and flowers with the help of pioneering methodology.


Source : Natural isolates recovered from Indian basil.
Color : Clear transparent Liquid
Odour : Green, Herbal, Sweet, Floral
Solubility : Soluble in alcohol and oils
IUPAC Name : 3,7-dimethylocta-1,6-dien-3-ol
CAS No : 78-70-6; 126-91-0
EINECS No : 201-134-4
FEMA No : 2635
TARIFF No : 2905220010
Molecular Formula : C10H18O
Molecular Weight : 154.24
Specific Gravity : 0.86
Refractive Index : 1.46
Purity : 98% min
Optical Rotation : -22° to -14°C
Antioxidant : Nil
Flash Point : 79°C
Boiling Point : 212°C
Assay : >97(%GC)
Storage Time : >24 Months

Features :-

Free from impurities
Excellent purity
Longer shelf life
Non toxic smell


Uses :-
Mainly used in repellent of mosquitoes and insects, the provided basil is highly demanded in the market for making floral fragrance.


Storage :-
Keep in tightly closed container in cool and dry place.

Packaging Details :-
5kg, 25kg, 180kg & 200kg Drums